By Jonathan Allard
To have a great outdoor space, does not necessarily mean it is the most spacious or expensive. It it how the space is designed and utilized to create a well organized area outside of those four walls. This Top 10 List of Inspirational Outdoor Spaces range from an outdoor cinema to a paradise concrete "Man cave". We are counting down to the most inspirational space, Neptune Style!
10. So Relaxing.
Number 10 on our list is a simple but rustic outdoor seating area. This space is great if you are accompanying a guest for coffee, or you and your significant other want to have a space to yourselves. The fireplace creates a warm ambiance and makes this a relaxing outdoor area with an indoor feel. This is a great example of utilizing an outdoor patio with a trellis acting as an open style roof to give the feel as if it is an enclosed space. Great Job!
9. Spa-Inspired Alfresco Escape.
Number 9 on our countdown also implements a simple seating area, but adds a country-flair to it. The in-ground spa gives the feel as if you have a bath in your own backyard. Complimenting this beautiful spa is a modern table design with an integrated fireplace, side tables, seating and ottomans, also notice the mountain scape in the background. This inspiration comes from Emiliana Design Studio, and Outdoor Spaces by Kettal. Thank You!
8. Great for Gatherings.
For those of you who love to host gatherings or parties, here is an excellent use of a backyard space. Having the fire pit in the center of this engagement is a wonderful conversational piece, and creates a warming environment. Hosting parties should not be a chore, but more of a fun experience, and our number 8 on the countdown makes it that much easier. Give them a standing "U"…because it is U-shaped, get it?
7. Movie Night.
Number 7 on our countdown to the most Inspirational Outdoor Space is this walk-up outdoor movie theatre. This open style cinema is a great way for children and adults to relax under the open stars. This is a fun and cost effective approach to make your backyard a comfortable yet exciting way to watch all your favorite movies. By using just a few candle-lit torches, a futon mattress, a couple throw pillows, and some yummy home-made popcorn, going to the theatre is not so bad anymore…
6. Botswana-Style.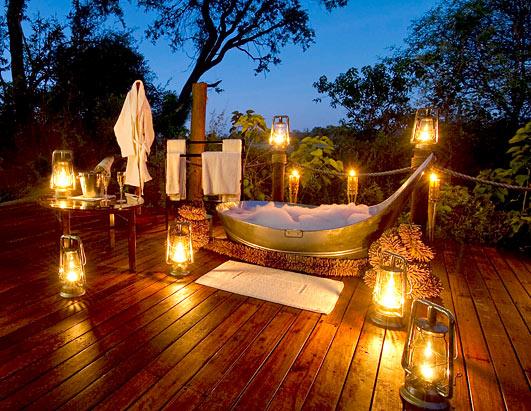 Just imagine the serenity that this outdoor bathtub for two creates. It is a very desirable and eloquent yet simple space to engage the romantics. This candle-lit bath is designed to relax and sooth the body while enjoying the beautiful scenery. It is a completely secluded area made simply for comfort. This inspiring concept can be found at the Sanctuary Baines Camp in Botswana.
5. Backyard Ecosystems.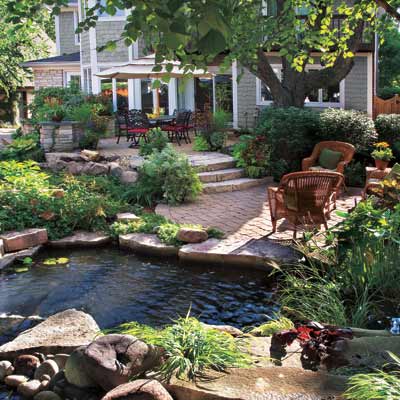 You do not have to have expensive things to create an amazing outdoor space. Take number 5 for example, this aesthetically pleasing backyard is not full of material items, but  "GREENscaping". It is designed to create many areas with multiple functions. The pond accents the surrounding greenery and opens up a world of ecosystems. These ecosystems will help maintain the beauty of this landscape just by playing their roles in society, therefore making it almost self-sustaining and captivating. It is easy to see why this space is inspirational, and starts the top 5!
4. Outdoor Kitchen.
Number 4 on the countdown is for the chef, inside and out. This kitchen brings the party outdoors and makes for a great gathering place. It is fully furnished with a; gas barbeque, wood burning grill, kitchen sink, regular refrigerator, wine refrigerator, a beer kegerator and an ice maker. To top it off, it is covered with a granite countertop.
3. Faux Rock Grotto.
This Twin Creek Farms Estate pool designed by Caviness Landscape, is the ultimate in luxury pool design. From beach entrance, to multiple entertainment areas, everything is included to make it the perfect entertaining or relaxation space. This luxurious pool is home to this gorgeous 900 square foot faux rock grotto, which is found alongside the pool's three swim-through natural boulder waterfalls.  Faux Rock is a great alternative to real stone because it is cost effective and looks extremely realistic, one can't even tell the difference. To top off number 3 on the countdown, there is a swim up bar, dry grotto area with a 46" outdoor plasma television and sound system. A dry entrance to the grotto which leads to a kitchen, and a restroom that is tucked away for convenience. WOW!!
2. The Tree-House Theory.
The runner up to our Top 10 countdown is every child's dream, the tree house. While blending into it's surrounding this tree house serves many purposes. One of which being a place for kids to hang out, play games, and hide secrets from their parents. They can even become very practical additions to anyones backyard. For example tree houses are perfect to organize a home office there or to become a guest bedroom. This is an inspirational space because if there is one thing a tree house sparks is…imagination!
AND THE WINNER IS….
1. Resort Living.
The designers at Pacific Outdoor Living captured all the elements above in one incredible outdoor space. This private home resort is captivating with features such as; A secluded spa, common gathering areas, conversational seating, beautiful greenery, mountain-scapes, outdoor bar and modern architecture. A backyard sure to impress any guest whether it be a family gathering, neighborhood get-together, or just your significant other. This is one space sure to inspire the creative edge in all of us. Great job to the guys over at pacific outdoor living!
There you have it folks, our Top 10 Inspirational Outdoor Spaces, Neptune Style. We have gathered information from all types of industries, from landscapes to aquascapes to designers. From tree houses to a simple rustic fireplace, all of the above are sure to relax the body and give one a sense of their own paradise. Comment below and tell us what you would have done differently, or an outdoor space that should have made the list for inspiration.
What is your Private Paradise?